Kansas City Royals v Detroit Tigers
DETROIT, MI - SEPTEMBER 20: Christin Stewart #14 of the Detroit Tigers celebrates his three-run home run that scored Pete Kozma #33 of the Detroit Tigers and JaCoby Jones #21 of the Detroit Tigers against the Kansas City Royals during the second inning at Comerica Park on September 20, 2018 in Detroit, Michigan. The Tigers defeated the Royals 11-8. (Photo by Duane Burleson/Getty Images)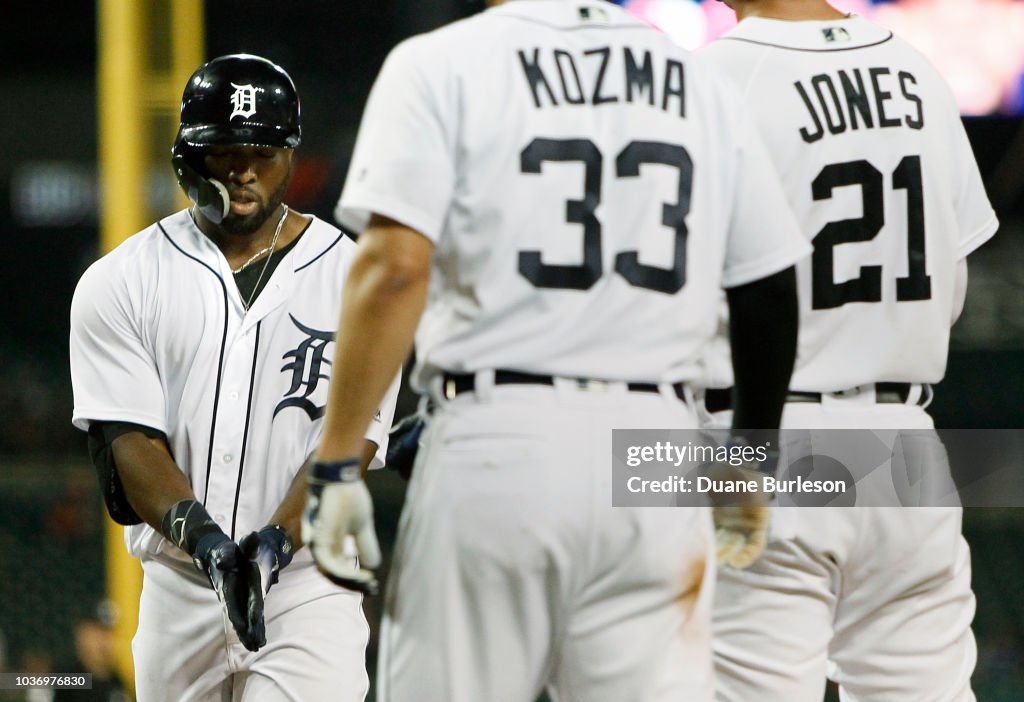 Wie darf ich dieses Bild verwenden?
DETAILS
Einschränkungen:
Bei kommerzieller Verwendung sowie für verkaufsfördernde Zwecke kontaktieren Sie bitte Ihr lokales Büro. Vollständige redaktionelle Rechte in Großbritannien, USA, Irland, Australien, Neuseeland, Kanada (außer Quebec). Eingeschränkte redaktionelle Rechte für Tageszeitungskunden in allen anderen Ländern. Bitte kontaktieren Sie uns.
No more than 7 images from any single MLB game, workout, activity or event may be used (including online and on apps) while that game, activity or event is in progress.
Kollektion:
Getty Images Sport
Erstellt am:
20. September 2018
Quelle:
Getty Images North America
Objektname:
20180920_midb120_tigers_stewart_4db7812.jpg
Max. Dateigröße:
3000 x 2057 px (25,40 x 17,42 cm) - 300 dpi - 4 MB